The Baron of Arizona - VHS
a.k.a. El Barón de Arizona
a.k.a. Der Baron von Arizona
a.k.a. Il Barone dell'Arizona
a.k.a. Svindleren fra Santa Fé
a.k.a. Uhkapeliä Arizonassa

GET THIS MOVIE ->

(opens new window)
---
Directed by Samuel Fuller
Written by Samuel Fuller
---
Wood regulars
Edward D. Wood, Jr. (stunts)

Additional cast
Beulah Bondi
Ellen Drew
Vincent Price
Robin Short

---
Plot
Tells the story of James Addison Reavis (Price) and his attempt to gain comtrol of the Arizona Territory through the use of his wife (Drew) who he claims is the heir to a Spanish land grant.
---
'Wood'-ness
Ed's involvement is apparently limited to stunt work. Rudolph Grey's Nightmare of Ecstacy states that Ed worked as a stunt double in drag and falls off a coach. Having watched the film, the only logical person for him to doubling for is Ellen Drew in a scene about and hour and a half into the movie, where she and Price are dragged from their coach by an angry mob.

For absolute completists only. (It's a good film, though. -ed.)
---
Best Line
Not applicable.
---
File Under
Crime, Ed Acting, Western
---
VIDEO RELEASES
THE BARON OF ARIZONA
Although available from a number of "specialty" video distributers, this film has had few mass market releases.


---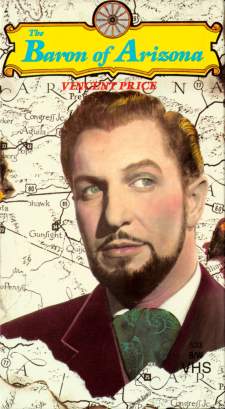 Manufacturer: Burbank Video
Video Format: NTSC
Comments: Image quality is very good.
---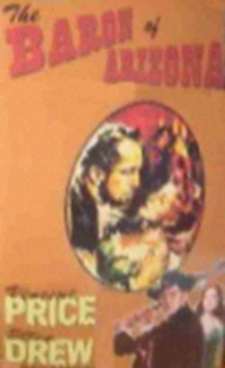 Manufacturer: Other Worlds Video
Video Format: NTSC
Comments: Other Worlds is a specialty retailer, so quality may vary.
---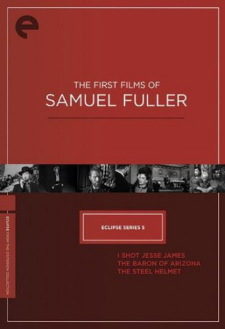 Manufacturer: Eclipse
Video Format: NTSC
Comments: Criterion Collection DVD Box set featuring Baron of Arizona as well as I Shot Jesse James and The Steel Helmet.
---
EL BARON DE ARIZONA
i.e.: "The Baron of Arizona"

This is the title The Baron of Arizona was released under in Argentina and Venezuela.


---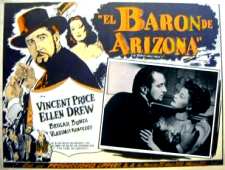 I can find no release under this title. To the left is a lobby card.
---
OTHER ALTERNATE TITLES
The following are additional International titles that I have currently found no releases for. If you have any releases under any of these titles, please contact me.


---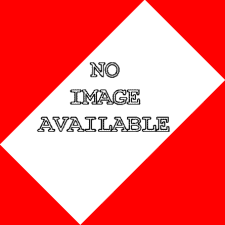 Der Baron von Arizona (Austria & West Germany)
"The Baron of Arizona"

Il Barone dell'Arizona (Italy)
"The Baron of Arizona"

Svindleren fra Santa Fé (Denmark)
"Swindler from Santa Fé"

Uhkapeliä Arizonassa (Finland)
"Gambling Arizonian"


---
---

All images © their respective owners.
Images are used for review purposes only.

All other content, including (but not limited to): text, html & original graphics are © Philip R. Frey