The Beach Bunnies
a.k.a. The Sun Bunnies
a.k.a. Red Hot and Sexy

SEARCH EBAY FOR THIS MOVIE (opens new window)
---
Directed by Stephen C. Apostolof (as A.C. Stephen)
Written by Edward D. Wood, Jr. & Stephen C. Apostolof (as A.C. Stephen)
---
Wood regulars
Rick Cassidy
Con Covert
Forman Shane

Additional cast
Brenda Fogarty
Mariwin Roberts
Linda Gildersleeve
Wendy Cavanaugh

---
Plot
Under pressure from her boss, Editor In Chief Elaine Street (Fogarty) must find out whether megastar Rock Sanders has had a sex change or not. Her plan is to take three of her friends to the beach where he's staying for some "undercover" work...
---
'Wood'-ness
This one had Ed's stamp all over it. From the plot concerning a sex change operation to the extremely bad dialogue. Since this is an "A.C. Stephen" movie, the production values are better than usual, but most of the film still makes little sense. A fun one that never crosses the "soft core" line.
---
Best Line
"I must know if Rock Sanders has a cock!" - Elaine Street
---
File Under
Adult
---
VIDEO RELEASES
THE BEACH BUNNIES
This is the original (and most commonly used) title. It has been available occasionally throughout the years.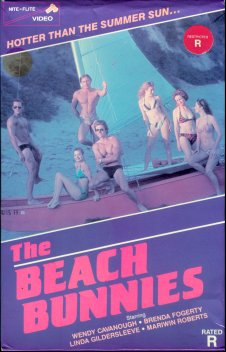 This is the original home video release of The Beach Bunnies. It is from Nite Flite Video.

Like many old movies, this comes in a large box with a plastic insert, not a carboard sleeve.

PROS: Original release.
CONS: Very old release. Most copies will have started to deteriorate by now. (Mine has. -ed.)
---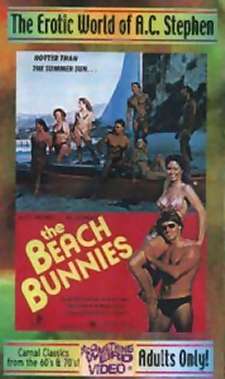 This is the version still available from Something Weird Video.
---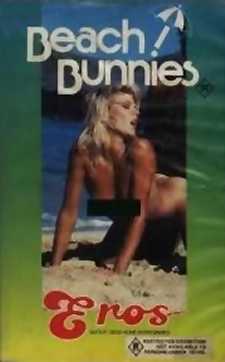 This is a PAL release available (at least) in Australia.

The black bar was placed there by the person who auctioned it on eBay and is not on the original box.

It is apparently from Eros.
---
THE SUN BUNNIES
This is listed as a "working title" on the IMDb, yet seems to have had at least one release under this title.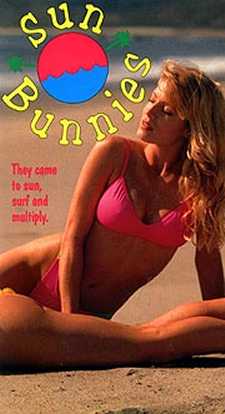 This is apparently a version of The Beach Bunnies, but I cannot confirm this.

It does not appear to be the pornographic movie The Sun Bunnies, however, which is the only other film of this title I am aware of.
---
RED HOT AND SEXY
I can find no record of a mass market release under this title.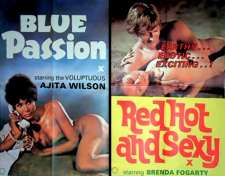 Here is the only image featuring the title Red Hot and Sexy I have found so far.

It is a British "Quad" poster also featuring the Ajita Wilson film Black Aphrodite a.k.a. Blue Passion.
---
---

All images © their respective owners.
Images are used for review purposes only.

All other content, including (but not limited to): text, html & original graphics are © Philip R. Frey