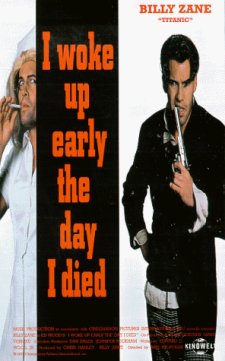 This is the German VHS release of I Woke Up Early The Day I Died.

It is the basis for most of the bootlegs sold on eBay and at "specialty video" stores.

It is worth noting that in this edition, the occasional spoken words mentioned above as well as the many superimposed excerpts from the script (one of the highlights of the film's style) are in German and not the original English. Consequently, most bootlegs cannot be considered definitive.

If you are seeking a copy of this movie, try to locate one based on an industry screener instead.