Married Too Young - VHS, DVD-R
a.k.a. I Married Too Young

SEARCH EBAY FOR THIS MOVIE (opens new window)
---
Directed by George Moskov
Written by Nathaniel Tanchuck & Edward D. Wood, Jr. (allegedly)
---
Wood regulars
none

Additional cast
Harold Lloyd, Jr.
Jana Lund
Marianna Hill

---
Plot
Tommy (Lloyd) and his girlfriend Helen (Lund) decide to cross the state line and get married, despite not even having finished high school. Eventually, of course, the truth comes out and after trying to stay first with his parents, then hers, they strike out on their own.

But the troubles for our young teens have only begun. Before too long, the bills start piling up and Tommy gives in to pressure from a crime boss to help him with stolen cars.

Tommy is little prepared for a life of crime and it inevitably leads to trouble...
---
'Wood'-ness
This is a tough one. The idea that Ed had worked on this film dates way back to the 60s, yet Nathaniel Tanchuck's daughter, Heather Tanchuck, has stated that Ed had nothing to do with the script.

Most reports indicate that Ed did a re-write late in production and this is the only way he could have had a hand in this picture. The characters and plot are exceedingly dull, with little of Ed's penchant for outrageous situations. Despite the potential of a tale of young love, the film just kind of meanders through a string of obvious traps for the young couple to fall in to. At the end, however (with it's improbable conclusion) the possible hand of Ed does show. Also of note is a speech from the Justice of the Peace who married the young couple, admonishing their parents for their failures. It is very reminiscent of Judge Clara's speech from The Violent Years.

With its dubious connection to Ed, along with it's lack of Woodian charm, this one is for completists only.
---
Best Line
to be determined
---
File Under
Apocrypha, Crime
---
VIDEO RELEASES
MARRIED TOO YOUNG
The only other title this film has had is the minor variant I Married Too Young. I have found only specialty video releases.


---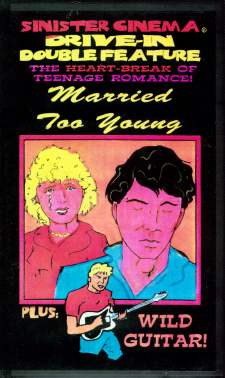 Manufacturer: Sinister Cinema
Video Format: NTSC
Comments: This is Sinister Cinema's "Drive-In Double Feature #78" (there is no other identification on the video tape itself). Before the features are trailers to other films in the "Drive-In" series, including the hard-to-find Ed movie Shotgun Wedding. The second feature is the Arch Hall, Jr. 'classic' Wild Guitar. It is out of print.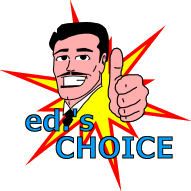 ---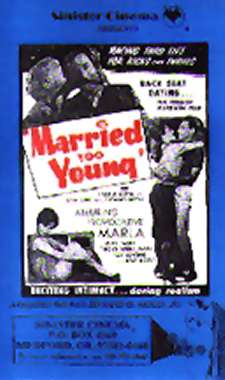 Manufacturer: Sinister Cinema
Video Format: NTSC
Comments: This is Sinister Cinema's current release of Married Too Young.
---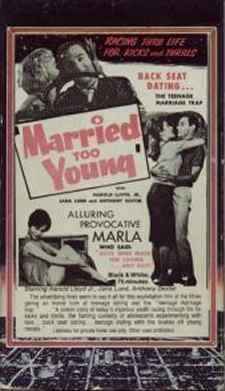 Manufacturer: Hollywood Home Theater
Video Format: NTSC
Comments: Out of Print.
---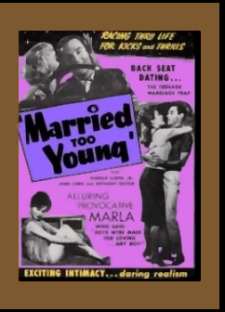 Manufacturer: Sinister Cinema
Video Format: NTSC
Comments: This is the DVD of Married Too Young. It actually comes on a DVD-R, so you need to be sure you can play DVD-R media before acquiring it. There appears to be no extras.
---
---

All images © their respective owners.
Images are used for review purposes only.

All other content, including (but not limited to): text, html & original graphics are © Philip R. Frey