Necromania - VHS, DVD

GET THIS MOVIE ->


(opens new window)
---
SEARCH EBAY FOR THIS MOVIE (opens new window)
---
Directed by Edward D. Wood, Jr. (as Don Miller)
Written by Edward D. Wood, Jr. (as Don Miller)
---
Wood regulars
Rene Bond
Ric Lutze

Additional cast
Maria Aronoff (as Maria Arnold)

---
Plot
Danny (Lutze) and Shirley (Bond) have a problem. Danny can't seem to fulfill his marital duties (not that they're married, as it turns out - ed.) and Shirley has had about enough of it. As a solution, they seek out a 'Necromancer' known as Madame Heles (Aronoff) to solve the problem.

Upon arriving at the Necromancer's house, they attempt to have sex, and fail as usual. Shirley goes out to look around, meets a girl named Barbara and immediately has sex with her. When Danny finally awakes, he goes looking for Shirley, meets a girl and tries (and fails) to have sex with her. Meanwhile, Shirley, unsure why she started having sex with Barbara in the first place, goes with her to a bedroom and starts to have sex again.

Eventually, all four are brought to the altar/coffin of Madame Heles. There she declares Shirley ready to join them in a life "devoted to sex and only sex". Danny is thrown focibly into the coffin with Madame Heles and successfully has sex with her.

The End.
---
'Wood'-ness
This is based on Ed's book, The Only House.

Necromania stands out as vapid even by Ed's standards. The simplistic plot gives no room for Ed's usual touches of his peculair brand of brilliance. The only character of note is Shirley, played by a pre-boob job Rene Bond. She, at least, gets off a few good insulting lines of dialogue now and then. The spook-speak makes Dr. Acula's pronunciations in Night of the Ghouls sound like "Hamlet."

There are two versions of this movie. In the most commonly available version, the sex is basically softcore (although everything is seen), while there is also a hardcore XXX version that does feature actual sex. The sex scenes in the softcore version are uninspired and usually go on pointlessly for way too long. (I don't have the hardcore version yet. It may prove more "interesting". - ed.)

For completists and fans of early 70's porn only.
---
Best Line
"Necromancers have all kinds of potions and things...to help you!" - Shirley
---
File Under
Adult, Horror
---
VIDEO RELEASES
NECROMANIA
While Necromania was lost for a long time, both versions have now re-surfaced and found release from 'specialty' outlets. The full-on XXX version is only available on the Fleshbot DVD, however.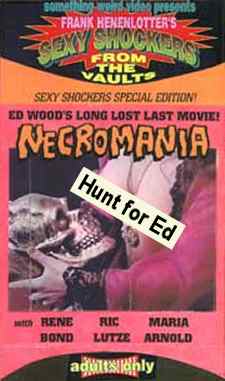 This is the Something Weird release.

Following the film, there is commentary from Rudolph Gray and others discussing Ed.

The tape also contains footage from The Love Feast, which was undiscovered in its entirety at the time.

PROS: Most common edition. Commentary.
CONS: Apparently it is not complete.
---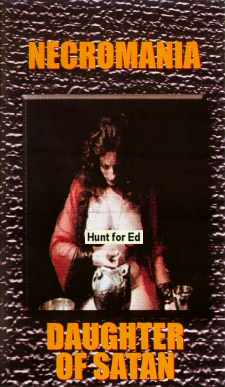 This is a release from Alpha Video.

It apparently contains the most complete print of the softcore version of Necromania available.

The tape is a double feature also containing the film Daughter of Satan.

PROS: Most complete version.
CONS: Expensive.
---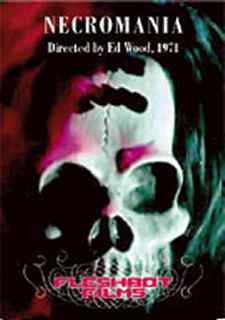 Manufacturer: Fleshbot Films
Year of issue: 2004
Video Format: Region 0 - NTSC
Extras: Introduction by Fleshbot Editor John d'Addario • Complete softcore version of Necromania



---
---

All images © their respective owners.
Images are used for review purposes only.

All other content, including (but not limited to): text, html & original graphics are © Philip R. Frey